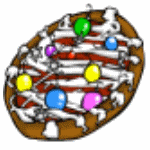 Is your pet craving a sugar high? Does their mouth water at the mere mention of Candyland? Well look no further! These are the most sugar loaded treats in Marada! All taste tested by my pet puffao Slice, the treats are listed from least sugary to practically sugar infused!
The Countdown
Edit
Chocolate Chip Muffin
Edit
Starting off small, we have a simple treat that's still equally as delicious. Nice sugary bread, with the largest chunks of chocolate baked in, is a truly tasty breakfast! The chocolate is probably the sweetest part as my pet Slice stated.
Ghost Floaties
Edit
The sugary rice puffs of this cereal are sure to please! The cereal grains start small, and even healthy, but with loads of frosting added, it's sure to wake you up in the morning! This frosted cereal is one of the most popular in the market.
Vanilla Ice Cream Cone
Edit
Mmmm, who doesn't like ice cream? Freshly scooped vanilla in a crispy sugary cone is sure to make your pets mouth water!
Chocolate Drops
Edit
Large Chocolate Milk
Edit
Festive Pizza
Edit