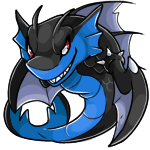 Introduction
Edit
Hi! My name is Slice, welcome to my little page on the web!
Name: Slice
Gender: Female
Species: Paffuto
Color: Dragon
Occupation: Hacker
Sexuality: Lesbian
Lives in: Puchalla Village
So you want to know about me huh? I am an advanced hacker and can do nearly anything with computers! Don't make me mad...I can find your most personal stuff! Hee hee.
Other than that...I live with my owner, my sister and three brothers in Puchalla Village. I care about my family a lot so I like living with them! I still have yet to find a special someone, but I hope too soon...
I love eating meat from the gourmet meat shop and watching scary movies!
My Favorite Stuff
Edit