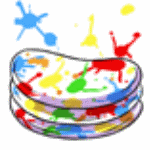 Does your pet love a hearty breakfast? What better way to start the day than light, fluffy, pancakes? There are tons of varieties in Marada, and you're sure to find a cake that your pet will love! The pancake category has a bunch of different selections and this article will walk you through to help you and your pet dine on a delicious meal!
The Basics
Edit
The Strange
Edit
Looking for a unique taste? These pancakes are sure to please. Here I have selected a variety of pancakes from around Marada. Each is uniquely different if a little strange.
Insideout Pancake
Edit
If your pet is carnivorous, the inside out pancake is full of blood and meats. With a nice red tint and topped with organs, your meat eater will enjoy this unique pancake!
Alien and Glitch Pancake
Edit
Adventurous? The alien and glitch pancakes from Ziranek are definitely on the sci-fi side! Many say the glitch pancake is oddly delicious and fluffy, while the alien pancake tastes strangely like peanut butter.
Mushroom Pancake
Edit
The Absolute Best
Edit
Splatter Pancake
Edit
Chocolate Ice Cream Pancake
Edit