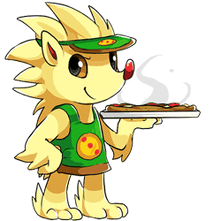 If you enjoy culinary arts, you would probably enjoy being a chef!
Qualifications Needed
Edit
Level: 1
Health: 1
Charisma: 1
Art: 1
Science: 1
CDs: 1
DVDs: 1
Books: 2
Job Details
Edit
You could work at any food shop or restaurant in Marada! Making delicious meals requires a love of cooking and food skills. All you need is a few classes in art and Science to become a master chef!
You can work making yummy lunches in Slater Park or the restaurant in Dukka Caves! It's easy to cook for shops but the restaurant is a little more fast paced.
If you have more of a sweet tooth you can help mold chocolate in Candyland's river or work in the bakery making sugary pastries. The bakery often bakes the day before hand so there's no need to rush!
Advice from Experts
Edit
"While meeting DVD qualifications, consider watching DVD's about the food industry!" ~ Mina the Gonk
"Even if you love to cook already make sure to take a science class to understand how cooking works!" - Pips the Gizmo